HIGER BUS SINGAPORE
TRUCKMART INTERNATIONAL is the appointed  sole distributor of HIGER Bus in Singapore.
HIGER Bus is the number 2 best selling bus in China, and is the only Chinese bus manufacturer to have a jointly-developed product with Scania Bus - the Scania Touring.
 
ZF / Allison fully automatic transmission

WEICHAI engines

Ease of use, simple and reliable
HIGER BUS History
HIGER BUS was founded in 1998 as Higer Bus Company Limited, in Suzhou, China.  Known initially as SUZHOU KING LONG 苏州金龙,HIGER was one of the earliest China bus manufacturers to enter the Singapore market.
Check out HIGER's official website.
Engine
WEICHAI POWER is one of the largest engine manufacturers in the world. The majority of the heavy duty trucks in China are powered by WEICHAI engines. Our own BEIBEN trucks are also equipped with the Euro 4/5/6 WEICHAI engines.
From the smaller WP4.1 of the KLQ 6759AR to the medium-sized WP7 (270hp, 300hp) and the larger WP10H (375hp), all engines produce high torque at all operating engine speeds. Service is provided by our own workshop TM MOTOR WORKS PTE LTD, which is a WEICHAI authorized service center.
All our Weichai engines meet  the Euro-6 emission standard and are VCA-certified.
Gearbox
There are various gearbox options available for the HIGER Buses.
The smaller KLQ 6759AR is equipped with the Allison TR-1000 transmission, while the medium and large buses (KLQ 6952, KLQ 6118, KLQ 6128)  are equipped with the heavy duty ZF 6AP series with built-in retarder.
Allison TR-1000
Max Input Torque: 700Nm
Forward Speeds: 6

The ideal transmission for smaller torque applications. Allison automatic transmissions are used in many municipal facility equipments such as refuse trucks, and firefighting trucks.
ZF ECO-Life 6AP Fully automatic transmission
Max Input Torque: 1700Nm
Forward Speeds: 6

The ZF 6AP series provides superb gear shifting and ideally-spaced out gear ratios. The built-in retarder prolongs the life of the service brakes.  
Service is provided by our long-term partner ZF-South East Asia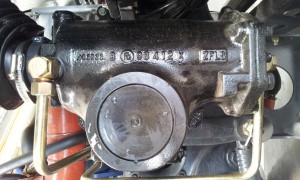 Steering Gear
All HIGER buses are equipped with ZF steering gear for uncompromised quality and safety.
All pictures copyrighted from TRUCKMART INTERNATIONAL PTE LTD and/or ZF/Allison.